Nobel Ilac Has Been The Only Pharmaceutical Company Among Turkey's 100 Most Valuable Brands
Nobel Ilac Has Been The Only Pharmaceutical Company Among Turkey's 100 Most Valuable Brands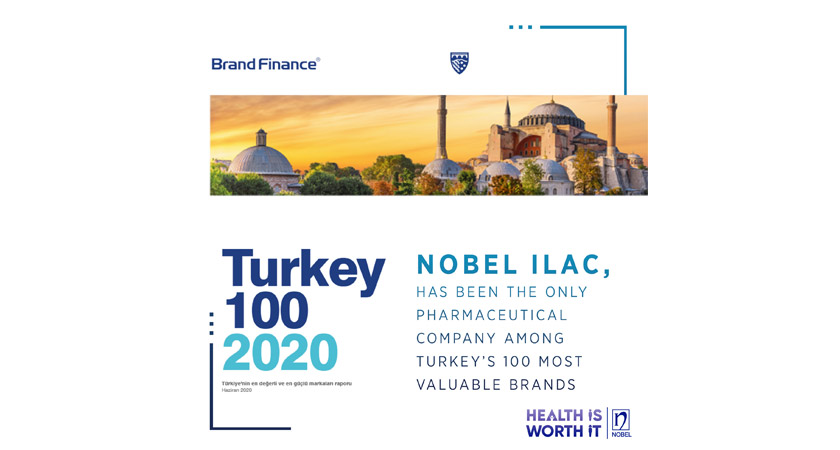 Brand Finance, an international and independent brand valuation and strategy consulting company, has completed its report titled "Turkey's Most Valuable Brands – Turkey 100" for the year 2020.
The list included eight new brands from different businesses this year, with Nobel İlaç was listed as the only company selected within the healthcare industry.
Hakan Sahin, the General Manager of Nobel İlaç, commented on the company's success as follows:
"Being listed as the only pharmaceutical company in Turkey's 100 most valuable brands has been a great honor to the entire Nobel family. Nobel, a global player with an experience of more than half a century, was founded in 1964 as a fully domestic capital company. Since the very first day of our business operations, we have been confidently proceeding on our path with the vision of providing reliable and accessible products in every corner of the world for human health. Nobel İlaç, a Turkish brand, has gained a considerable position on the international platform over the years with the potential derived from this vision. So much so that, our sales force transformation is being taught in classes as a case study in the Harvard Business School MBA program today.
We are adding new assets to our repertoire of international achievements on a daily basis with the goal of improving the quality of life with the belief that "health is worth everything". As an international pharmaceutical company with 100 percent domestic capital, we bring in significant export figures every year. Today Nobel operates with a total of five manufacturing facilities, including three in Turkey and one in each of Kazakhstan and Uzbekistan. We export qualified products manufactured in line with international standards to approximately 50 countries. Together with our Swiss organization, which we established within the last year, we have been performing promotion and sales activities in 20 countries with our own organizations and brands. As Turkey's top pharma export company, we are proud to create resources that benefit our country's net foreign exchange deficit."